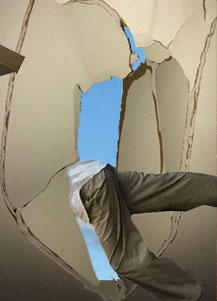 Tempered Mortar. Untempered Mortar
Funny words: Tempered Or Untempered Mortar. What does that have to do with the Kingdom of God?
Tons. Get it? Tons of Mortar. Seriously though, it has tons to do with the Kingdom of God.
God is in the active on ongoing process of building His Kingdom. It has a sure foundation. It certainly has a Chief Cornerstone –  our Lord Jesus.
It is being perfectly made. In fact, our God is so determined for His Kingdom to be built properly, He tells us He Himself will shake everything that can be shaken, so that what cannot be shaken will remain.
Part of that perfect construction plan is the spiritual component "line being upon line, precept being upon precept" in the proper order and perfect purposes of God. It is a supernatural design – and it works both in the natural as well as the supernatural realm (Isa 28).
We are invited, even called, into that building program.
Prophecy is key to the Kingdom plan. OT and NT are both full of prophetic insight, authority and power. It is so key to the plan, one would be naïve to assume our enemy would not want to infiltrate this key component of the Kingdom. He certainly has done it in the past, and he will continue. False prophesy is inspired by Satan to cloud, confuse and contradict true prophecy.
BTW (for you word lovers):
PropheCy is the NOUN – the utterance of a prophet.
PropheSy is the transitive verb – meaning to actively bring forth the propheCy.
Got that?
How key is prophecy?
Rev 19:10 "……..For the testimony of Jesus is the spirit of prophecy."
From Moses prophesying about our Lord Jesus (and it is a very tough word that was OT written but undoubtedly NT-activated):
Acts 3:22-23
22        "For Moses truly said to the fathers, 'The Lord your God will raise up for you a Prophet like me from your brethren. Him you shall hear in all things, whatever He says to you.
23        'And it shall be that every soul who will not hear that Prophet shall be utterly destroyed from among the people.'
…..to Daniel speaking of end times, some things still to be revealed, we are surrounded by and subject to the prophetic.
Dan 12:8-9
8          Although I heard, I did not understand. Then I said, "My lord, what shall be the end of these things?"
9          And he said, "Go your way, Daniel, for the words are closed up and sealed till the time of the end.
Paul surely tells us that we, NT believers, are to be prophesying as a Church, up until the Day when our Lord returns – when "that which is perfect has come":
1 Cor 13:8-10
8          Love never fails. But whether there are prophecies, they will fail; whether there are tongues, they will cease; whether there is knowledge, it will vanish away.
9          For we know in part and we prophesy in part.
10        But when that which is perfect has come, then that which is in part will be done away.
It's sort of goofy, but folks who want to say the prophetic (and tongues) went away with the canonization of scripture (claiming the perfection being of the word of God) fail to see that in one breath the same verse PROPHESYING that prophecy will cease also tells us knowledge will vanish away at the same time. Well, duh. Hasn't happened just yet.
Paul goes on to so prioritize the ministry of the prophetic, that he challenges the very establishment of the Western church (which would appear as if the church was founded upon the pastoral office, which it is not, a format that has brought upon itself much pain in trying to override the order of God):
Eph 2:19-22
19        Now, therefore, you are no longer strangers and foreigners, but fellow citizens with the saints and members of the household of God,
20        having been built on the foundation of the apostles and prophets, Jesus Christ Himself being the chief corner stone,
21        in whom the whole building, being joined together, grows into a holy temple in the Lord,
22        in whom you also are being built together for a dwelling place of God in the Spirit.
Paul not only says the FOUNDATION of the church WAS the prophetic and apostolic, but by ongoing tense "being joined together, grows…" IS telling us that this foundation and building project is a continuum. The growth of the fullness of the true church never stops being built upon that foundation (with, of course, the Prophet Jesus being the cornerstone). We might as well remove the cornerstone, if we're going to eliminate the foundation. Both are living elements. This is a living work of God in and by the Spirit. A movement, as opposed to a monument, as Smith Wigglesworth would say.
Gosh it hints of death and lifelessness when any church would so want to sanitize and control their "church plans" to eliminate either office. No more apostles. No more prophets. No more life. Safe and predictable church. Predictably dead.
Meanwhile, from the time of the Fall of Man, we see an enemy infiltrating the plans and Word of God, oftentimes working through weak, ignorant or overly religious men (and women) to subvert the truth. The prophetic realm can be intoxicating.
EXAMPLE: Israel was in bad standing with God. They had brought upon themselves the judgment of God, terrible judgment. They had provoked and provoked and provoked God. There was going to be invasion (by the "worst of the Gentiles"), destruction, death, cannibalism. Meanwhile the people wanted to hear all was well. They did not want to hear truth. They wanted comfort-in-their-condition.
Ezek 13:1-16
1          And the word of the LORD came to me, saying,
2          "Son of man, prophesy against the prophets of Israel who prophesy, and say to those who prophesy out of their own heart, 'Hear the word of the LORD!'"
3          Thus says the Lord GOD: "Woe to the foolish prophets, who follow their own spirit and have seen nothing!
4          "O Israel, your prophets are like foxes in the deserts.
5          "You have not gone up into the gaps to build a wall for the house of Israel to stand in battle on the day of the LORD.
6          "They have envisioned futility and false divination, saying, 'Thus says the LORD!' But the LORD has not sent them; yet they hope that the word may be confirmed.
7          "Have you not seen a futile vision, and have you not spoken false divination? You say, 'The LORD says,' but I have not spoken."
8          Therefore thus says the Lord GOD: "Because you have spoken nonsense and envisioned lies, therefore I am indeed against you," says the Lord GOD.
9          "My hand will be against the prophets who envision futility and who divine lies; they shall not be in the assembly of My people, nor be written in the record of the house of Israel, nor shall they enter into the land of Israel. Then you shall know that I am the Lord GOD.
10        "Because, indeed, because they have seduced My people, saying, 'Peace!' when there is no peace– and one builds a wall, and they plaster it with untempered mortar–
11        "say to those who plaster it with untempered mortar, that it will fall. There will be flooding rain, and you, O great hailstones, shall fall; and a stormy wind shall tear it down.
12        "Surely, when the wall has fallen, will it not be said to you, 'Where is the mortar with which you plastered it?'"
13        Therefore thus says the Lord GOD: "I will cause a stormy wind to break forth in My fury; and there shall be a flooding rain in My anger, and great hailstones in fury to consume it.
14        "So I will break down the wall you have plastered with untempered mortar, and bring it down to the ground, so that its foundation will be uncovered; it will fall, and you shall be consumed in the midst of it. Then you shall know that I am the LORD.
15        "Thus will I accomplish My wrath on the wall and on those who have plastered it with untempered mortar; and I will say to you, 'The wall is no more, nor those who plastered it,
16        'that is, the prophets of Israel who prophesy concerning Jerusalem, and who see visions of peace for her when there is no peace,'" says the Lord GOD.
Yow. The provoking of God to wrath is a long and torturous journey. He is so merciful, so patient, always not willing that any perish, but that all come to repentance. But woe to the man or woman who prophesies lightly, or prophesies out of the dictates of their own heart. Doesn't matter which testament we're living in. In fact, the Bar of Accountability is elevated, not lowered, during the dispensation of the NT:
Heb 12:25
25        See that you do not refuse Him who speaks. For if they did not escape who refused Him who spoke on earth, much more shall we not escape if we turn away from Him who speaks from heaven,
Like Ezekiel, Jeremiah brings forth a similar word from God, declaring that the solution is not the silencing of true prophets, but instead their speaking forth, in humility and in the fear of God. Truth will destroy the counterfeit, and without the true prophetic utterance, all that will be available will be the counterfeit. I believe that's one reason why fortune tellers and card readers, gurus and false church prophets prosper. The real-deal has been shut down. To the hungry soul, every bitter thing is sweet (Proverbs: Someplace)
Jer 23:16-29
16        Thus says the LORD of hosts: "Do not listen to the words of the prophets who prophesy to you. They make you worthless; they speak a vision of their own heart, not from the mouth of the LORD.
17        They continually say to those who despise Me, 'The LORD has said, "You shall have peace" ';and to everyone who walks according to the dictates of his own heart, they say, 'No evil shall come upon you.'"
18        For who has stood in the counsel of the LORD, and has perceived and heard His word? Who has marked His word and heard it?
19        Behold, a whirlwind of the LORD has gone forth in fury– a violent whirlwind! It will fall violently on the head of the wicked.
20        The anger of the LORD will not turn back until He has executed and performed the thoughts of His heart. In the latter days you will understand it perfectly.
21        "I have not sent these prophets, yet they ran. I have not spoken to them, yet they prophesied.
22        But if they had stood in My counsel, and had caused My people to hear My words, then they would have turned them from their evil way and from the evil of their doings.
23        "Am I a God near at hand," says the LORD, "And not a God afar off?
24        Can anyone hide himself in secret places, so I shall not see him?" says the LORD; "Do I not fill heaven and earth?" says the LORD.
25        "I have heard what the prophets have said who prophesy lies in My name, saying, 'I have dreamed, I have dreamed!'
26        "How long will this be in the heart of the prophets who prophesy lies? Indeed they are prophets of the deceit of their own heart,
27        "who try to make My people forget My name by their dreams which everyone tells his neighbor, as their fathers forgot My name for Baal.
HERE'S THE GOOD STUFF. HERE'S THE REMEDY FOR THE ONSLAUGHT OF LIES:
28        "The prophet who has a dream, let him tell a dream; and he who has My word, let him speak My word faithfully. What is the chaff to the wheat?" says the LORD.
29        "Is not My word like a fire?" says the LORD, "And like a hammer that breaks the rock in pieces?
Yea God! Yea for the prophetic!
We so need men and women (and children, like adolescent Zechariah) who will come into the place of deep relationship with God and, in humility, bring forth the prophetic with clarity and biblical accuracy, in the fear of the Lord.
1 Cor 14:31
31        For you can all prophesy one by one, that all may learn and all may be encouraged.
1 Cor 14:1-4
1          Pursue love, and desire spiritual gifts, but especially that you may prophesy.
2          For he who speaks in a tongue does not speak to men but to God, for no one understands him; however, in the spirit he speaks mysteries.
3          But he who prophesies speaks edification and exhortation and comfort to men.
4          He who speaks in a tongue edifies himself, but he who prophesies edifies the church.
Edify the body of Christ.
Minister to the newcomer, who will fall down and declare God is among us, as the secrets of his heart are revealed (1 Cor 14:25).
Isa 66:1-2
1          Thus says the LORD: "Heaven is My throne, and earth is My footstool. Where is the house that you will build Me? And where is the place of My rest?
2          For all those things My hand has made, and all those things exist," says the LORD. "But on this one will I look: on him who is poor and of a contrite spirit, and who trembles at My word.
TEMPERED MORTAR is the good stuff – the work of the Master Craftsman who has so mixed together the supernatural resources of heaven into the heart and mind and life of a saint, that the words coming forth from their mouth are tried and true, accurate and purposeful. Those words will accomplish the purposes of God. Those are the words that will not return void. The hearers are blessed. The prophet is rewarded and safe from the judgment of God. It is a very good thing.
Notably in these days where the plans and purposes of our Lord are being revealed on a daily basis, we would do well to understand that what Joel 2 first told us and what Peter declared in Acts 2 regarding what he perceived at that time as being the outpouring prior to the return of the Lord (but which is clearly so much closer these days than those early days), we would be wise to recognize that the sons and daughters indeed will be prophesying, and at the same time the work of deception will be busy working to distort, distract and discourage the entire world from receiving the true prophetic word, in large part by "inspiring" the false prophetic word.
These are days when a Spirit-infused/Spirit-led/Spirit-obedient and scripturally sound walk with the Lord will prove to be most effective and most critical to both the hearers and speakers of the prophetic.
All scriptures NKJV