Jerry Lee Lewis is not much known for his religious anointing. If anyone in the family might be pointing, or has pointed, folks heavenward, it would be Cousin Jimmy: Jimmy Swaggart. Ironically, it's wild livin' Jerry Lee Lewis who brought two songs to great fame that both have conclusion-of-this-age prophetic connotation:
1. Great Balls Of Fire (including the lyrics of this blog title); AND
2. Whole Lotta Shakin' Goin' On.
I'm in no way speaking to the lifestyle of Jerry Lee Lewis. I am, however, thankful for some of these lyrics. It is good for me to remind myself that way before Jerry sang it, the Lord spoke it, and that holy speaking was so that these days would not come upon us unaware or unexpected.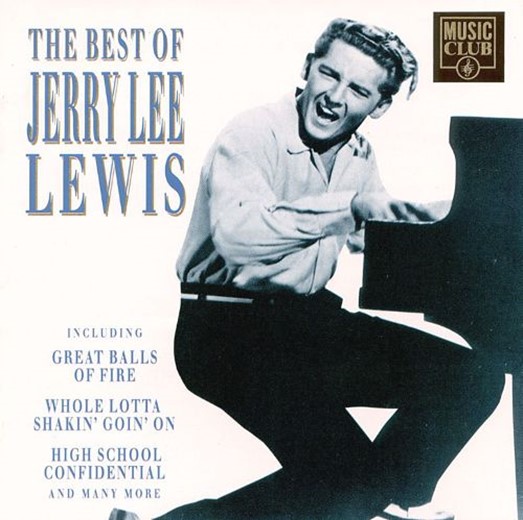 The work that our great Lord is orchestrating on the earth right now is all about shaking, the purpose being to drive and draw as many as possible, into salvation. He's looking to get the sinners saved, and He's at work in the saints both to fully prepare and equip us for the harvest at hand, and also to get us to the place of complete self-surrender, so that we might be fitted for all the purposes of the Master. The outpouring is waiting for us.
RE: SHAKING – The prophet Haggai says it this way:
Haggai 2:5-9
5 'According to the word that I covenanted with you when you came out of Egypt, so My Spirit remains among you; do not fear!'
6 "For thus says the Lord of hosts: 'Once more (it is a little while) I will shake heaven and earth, the sea and dry land;
7 and I will shake all nations, and they shall come to the Desire of All Nations, and I will fill this temple with glory,' says the Lord of hosts.
8 'The silver is Mine, and the gold is Mine,' says the Lord of hosts.
9 'The glory of this latter temple shall be greater than the former,' says the Lord of hosts. 'And in this place I will give peace,' says the Lord of hosts."

There's some clear markers in the above verses that speak to the specific climate during the promised shaking work at the end of this age. Primary: God identifies Himself as Lord of Hosts – best translated as King of the universe and Commander of the armies of heaven. Functionally, that means "God on the warpath". "All the nations" speaks of global activity, not simply Middle East activity. The temple being filled with glory is still waiting to occur. It surely will. True and lasting peace in Jerusalem will be realized at that time, finally, and not until then, when the Prince of Peace is reigning in His rightful home.
The writer of Hebrews confirms, in his own repetition of those same OT words, that during the time of his NT writing, they were still awaiting fulfillment. This "Hasn't Happened Yet" (HHY) prophetic picture is further fleshed out with an admonition for us to not refuse any of God's directives when these things come upon us, citing past examples of accountability, and failure due to disobedience.
Hebrews 12:25-29
25 See that you do not refuse Him who speaks. For if they did not escape who refused Him who spoke on earth, much more shall we not escape if we turn away from Him who speaks from heaven,
26 whose voice then shook the earth; but now He has promised, saying, "Yet once more I shake not only the earth, but also heaven."
27 Now this, "Yet once more," indicates the removal of those things that are being shaken, as of things that are made, that the things which cannot be shaken may remain.
28 Therefore, since we are receiving a kingdom which cannot be shaken, let us have grace, by which we may serve God acceptably with reverence and godly fear.
29 For our God is a consuming fire.

Additional scripture confirms God's modus operandi (how He works). The prophet Isaiah also looks forward, way beyond his own days and the forthcoming troubling times of the Babylonian invasion, to paint a picture replete with shakings, and also with eclipses and heavenly signs, not unlike what our Lord described in Matthew 24.
Isaiah 13:9-13
9 Behold, the day of the Lord comes,
Cruel, with both wrath and fierce anger,
To lay the land desolate;
And He will destroy its sinners from it.
10 For the stars of heaven and their constellations
Will not give their light;
The sun will be darkened in its going forth,
And the moon will not cause its light to shine.
11 "I will punish the world for its evil,
And the wicked for their iniquity;
I will halt the arrogance of the proud,
And will lay low the haughtiness of the terrible.
12 I will make a mortal more rare than fine gold,
A man more than the golden wedge of Ophir.
13 Therefore I will shake the heavens,
And the earth will move out of her place,
In the wrath of the Lord of hosts
And in the day of His fierce anger.

In case one was to misconstrue these prophetic words as being only "national" or "corporate" in their significance, we're instructed that it comes down to people – individuals – each and every one being dealt with by God.
The prophet Zechariah, in addressing all the nations that will come against Jerusalem, is speaking of the final conflicts at the conclusion of this age.
I would daresay no one should be naive enough to attempt to torture the following verses into premature fulfillment in 70AD. Verses 9 and 10 (below) are impossible to weave into coexistence anytime but at the end of this age. Either they were looking on the One they had pierced 70 years prior, or else God had failed in destroying the ONE nation (Rome) that had come against Jerusalem. Additionally, at that time the population was not gazing upon the One whom they had pierced and weeping over it. These verses are HHY.
Zechariah 12:9-14
9 It shall be in that day that I will seek to destroy all the nations that come against Jerusalem.
10 "And I will pour on the house of David and on the inhabitants of Jerusalem the Spirit of grace and supplication; then they will look on Me whom they pierced. Yes, they will mourn for Him as one mourns for his only son, and grieve for Him as one grieves for a firstborn.
11 In that day there shall be a great mourning in Jerusalem, like the mourning at Hadad Rimmon in the plain of Megiddo.

AND HERE'S THE INDIVIDUALITY OF EFFECTS OF THESE EVENTS ON PEOPLE APART ONE FROM ANOTHER, BEING DEALT WITH BY GOD, INDIVIDUALLY:
12 And the land shall mourn, every family by itself: the family of the house of David by itself, and their wives by themselves; the family of the house of Nathan by itself, and their wives by themselves;

13 the family of the house of Levi by itself, and their wives by themselves; the family of Shimei by itself, and their wives by themselves;
14 all the families that remain, every family by itself, and their wives by themselves.

The shaking work that is prophesied to come to heaven and earth (and I believe is beginning to manifest) is intended, and therefore will succeed in having a dramatic effect upon each and every person on the earth.
Zephaniah 2:11
11 The Lord will be awesome to them,
For He will reduce to nothing all the gods of the earth;
People shall worship Him,
Each one from his place,
Indeed all the shores of the nations.

Supporting a viewpoint of personal accountability is the recounting of the trials of Daniel's three dear friends. They were promoted to position at the request of Daniel, who had earned distinction before Nebuchadnezzar.
Daniel 2:48-49
48 Then the king promoted Daniel and gave him many great gifts; and he made him ruler over the whole province of Babylon, and chief administrator over all the wise men of Babylon.
49 Also Daniel petitioned the king, and he set Shadrach, Meshach, and Abed-Nego over the affairs of the province of Babylon; but Daniel sat in the gate of the king.
Shadrach, Meshach, and Abed-Nego surely loved their friend Daniel and felt secure standing beside (and mostly behind) him in his spectacular adventures in God. Nonetheless, Daniel 3:12-13 speaks to the three comrades suddenly finding themselves in a position of trial and testing with no Daniel in sight. The scriptures are silent as to his whereabouts. We're simply shown that (double negative, here) no one not being dealt with by God, nor is insulated from their own testings of faith, and accountability by God.
Daniel 3:8, 12-13
8 Therefore at that time certain Chaldeans came forward and accused the Jews. 9 They spoke and said to King Nebuchadnezzar, "O king, live forever!
12 There are certain Jews whom you have set over the affairs of the province of Babylon: Shadrach, Meshach, and Abed-Nego; these men, O king, have not paid due regard to you. They do not serve your gods or worship the gold image which you have set up."
13 Then Nebuchadnezzar, in rage and fury, gave the command to bring Shadrach, Meshach, and Abed-Nego. So they brought these men before the king.

The point to all this is that our God, is jealous for us, loves us corporately as His family and individually, and is determined to bring forth from each and every one of us, all that we are destined to be. It's part of that "Your will be done" prayer our Lord instructed us to each pray frequently.
To be called for such a time as this, to be able to understand the signs of our times, and to make the personal decisions to press in to the deeper things of our Lord, is our success. It starts on the individual level.
We each and all are called to win, big, in Him.
AND NOW RE THE BLOG TITLE (w slight mod of "You" to "He")
He shakes our nerves and rattles our brains.
His ways aren't our ways. His thoughts aren't our thoughts. Isa 55:8
The season before His return will be marked by the most troubling days. Mark 13:19
He tests His people, through and during the tough times. Jer 17:7-10
The shaking will be by God Himself. Haggai 2:6,2:7
There's always and in all circumstances sufficient grace. Phil 4:13
We can make it. Matt 24:13
Hebrews 2:1-4
1 Therefore we must give the more earnest heed to the things we have heard, lest we drift away.
2 For if the word spoken through angels proved steadfast, and every transgression and disobedience received a just reward,
3 how shall we escape if we neglect so great a salvation, which at the first began to be spoken by the Lord, and was confirmed to us by those who heard Him,
4 God also bearing witness both with signs and wonders, with various miracles, and gifts of the Holy Spirit, according to His own will?

And again in Hebrews:
Hebrews 10:23-25, 35-39
23 Let us hold fast the confession of our hope without wavering, for He who promised is faithful.
24 And let us consider one another in order to stir up love and good works,
25 not forsaking the assembling of ourselves together, as is the manner of some, but exhorting one another, and so much the more as you see the Day approaching.
35 Therefore do not cast away your confidence, which has great reward. 36 For you have need of endurance, so that after you have done the will of God, you may receive the promise:
37 "For yet a little while,
And He who is coming will come and will not tarry.
38 Now the just shall live by faith;
But if anyone draws back,
My soul has no pleasure in him."
39 But we are not of those who draw back to perdition, but of those who believe to the saving of the soul.

All scripture NKJV