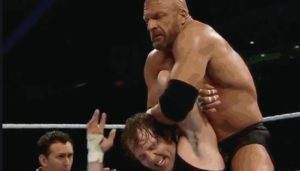 There's terminology in UFC (Ultimate Fighting Championship), and elsewhere – like the somewhat more theatrical (though still challenging and strenuous) wrestling bouts of TV-land, referred to as "Tapping Out". When one fighter finds himself/(sadly sometimes herself) in a position where (a.) they cannot get out of the grasp of their opponent; AND (b.) if they don't do something they will end up with something broken, or worse, they make a gesture for the referee and their opponent to see – they tap out. Sometimes they literally bang or tap the mat (hence the name). Other times they might wave their hand or (free) arm into the air. You get it.
They didn't step into the ring (or fighting cage) with the intent to tap out. They at first thought they had things under control, and that they would win. They had what they thought was a good plan. Situations changed for them. Tapping out was the smartest thing to do.
Sadly, sometimes the most stubborn of fighters do not tap out, or only tap out once something has actually broken. Last week I saw a guy in a televised UFC fight who had a funny shaped forearm. In a previous fight he had been so tough and stubborn that his arm had been broken, and now he has a souvenir to remember that fight.
One of the stubborn Jewish patriarchs was Jacob who wrestled with an angel one long night. His hip socket being out of joint from the encounter, he was renamed Y'israel (to us, Israel). That name means God prevails. It was quite a wrestling match.
Genesis 32:24-25
24 Then Jacob was left alone; and a Man wrestled with him until the breaking of day.
25 Now when He saw that He did not prevail against him, He touched the socket of his hip; and the socket of Jacob's hip was out of joint as He wrestled with him.
Scripture supports the consistent theme of wrestling with God from the supernatural events of Genesis 32 to the daily challenge of binding our wills to the altar of the King and declaring "Your will be done on earth as it is in heaven". Every day. When you pray, we are told.
Jacob's wrestling match was a good one. It still left him with a limp. Some of our wrestling matches, and many other accounts in scripture, seem to point simply to our stubbornness.
Throughout our lives we would do well, and do well more quickly, when we learn to tap out quickly to our great God. The revelation of His will to us, whether through the Word or in prayer, or by situation or by revelation,  is our invitation to tap-out.
His ways are not our ways. We've been told that.
Isaiah 55:8
8 "For My thoughts are not your thoughts,
Nor are your ways My ways," says the Lord.
Job functions as a sports star of scripture (who eventually tapped out after 42 chapters of affliction and testing, theorizing, speculating, justifying and contemplating. Bless that man!)
Job 42:1-6
1 Then Job answered the Lord and said:
2 "I know that You can do everything,
And that no purpose of Yours can be withheld from You.
3 You asked, 'Who is this who hides counsel without knowledge?'
Therefore I have uttered what I did not understand,
Things too wonderful for me, which I did not know.
4 Listen, please, and let me speak;
You said, 'I will question you, and you shall answer Me.'
5 "I have heard of You by the hearing of the ear,
But now my eye sees You.
(BEHOLD: THE TAP-OUT)
6 Therefore I abhor myself,
And repent in dust and ashes."
Following is a lengthy but valuable portion section of scripture, that teaches us process from stubbornness and religiosity and refusal, to suffering by a corrective God, to repentance and blessings, finally when the folks of God might hear and obey the word of God. Things don't change.
The word is eternal. The promises remain in place, as does the call to holiness and obedience.
Hosea 5:1 – 6:3
1 "Hear this, O priests! Take heed, O house of Israel!
Give ear, O house of the king!
For yours is the judgment,
(AND WHY?)
Because you have been a snare to Mizpah
And a net spread on Tabor.
2 The revolters are deeply involved in slaughter,
Though I rebuke them all.
3 I know Ephraim,
And Israel is not hidden from Me;
For now, O Ephraim, you commit harlotry;
Israel is defiled.
4 "They do not direct their deeds
Toward turning to their God,
For the spirit of harlotry is in their midst,
And they do not know the Lord.
5 The pride of Israel testifies to his face;
Therefore Israel and Ephraim stumble in their iniquity;
Judah also stumbles with them.
(RELIGIOSITY WON'T COMPENSATE FOR SIN)
6 "With their flocks and herds
They shall go to seek the Lord,
But they will not find Him;
He has withdrawn Himself from them.
7 They have dealt treacherously with the Lord,
For they have begotten pagan children.
Now a New Moon shall devour them and their heritage.
(THE CALL TO THE PROPHETS – Fear God not man. Speak truth)
8 "Blow the ram's horn in Gibeah,
The trumpet in Ramah!
Cry aloud at Beth Aven,
'Look behind you, O Benjamin!'
9 Ephraim shall be desolate in the day of rebuke;
Among the tribes of Israel I make known what is sure.
10 "The princes of Judah are like those who remove a landmark;
I will pour out My wrath on them like water.
11 Ephraim is oppressed and broken in judgment,
Because he willingly walked by human precept.
(HOW WILL GOD MOVE TO INITIATE REPENTANCE?)
12 Therefore I will be to Ephraim like a moth,
And to the house of Judah like rottenness.
13 "When Ephraim saw his sickness,
And Judah saw his wound,
Then Ephraim went to Assyria
And sent to King Jareb;
Yet he cannot cure you,
Nor heal you of your wound.
14 For I will be like a lion to Ephraim,
And like a young lion to the house of Judah.
I, even I, will tear them and go away;
I will take them away, and no one shall rescue.
(HOW LONG WILL THE SUFFERING BE?)
15 I will return again to My place
Till they acknowledge their offense.
Then they will seek My face;
In their affliction they will earnestly seek Me."
(Hosea 6 – THE CALL OF THE PROPHET – AND THE EXPLANATION AS TO WHY THE TROUBLE)
1 Come, and let us return to the Lord; For He has torn, but He will heal us;
He has stricken, but He will bind us up.
2 After two days He will revive us;
On the third day He will raise us up,
That we may live in His sight.
(THE ADMONITION, THE GLORY, THE BLESSING)
3 Let us know,
Let us pursue the knowledge of the Lord.
His going forth is established as the morning;
He will come to us like the rain,
Like the latter and former rain to the earth.
How great is our God?
This of course is not intended to imply that every time we, or our brethren, may suffer, that it has to be a direct result of our (or their) personal stubbornness and disobedience.
The scriptures also clearly tell us that there is trouble on earth, and often the righteous suffer.
God is always aware of our suffering, and promises us that He will deliver us when we suffer.
He defends the innocent, the fatherless, the widow.
He's all over that. Thank You, Lord.
Back on theme – still, there is much to be learned in the tap out.
It's why our gracious Lord, teaching His disciples, throughout all times, to pray – modeled the prayer verbalization by saying:
"Your will be done……".
It's His will or our will. That is the choice.
Within His will, we are told to entrust ourselves to Him, as unto a faithful Creator.
1 Peter 4:19
19 Therefore let those who suffer according to the will of God commit their souls to Him in doing good, as to a faithful Creator.
Suffering out of His will (because we are walking in our will), best is to get back into His will.
I do believe, as we draw closer to the imminent return of our Lord, that the deep-drawing-in work of the Spirit, directed towards the children of God, will take us to places of deeper surrender of our own wills, so that we might further emptied of self, to be further filled with Him. That is when the great exploits of Daniel (Dan 11:32), during the most trying times on earth, will be accomplished, by His surrendered ones.
When we first got saved (in the Jesus Movement revival) there was much street witnessing. I used to think these following verses applied primarily to winning arguments by presenting the truth to the hordes of the unsaved. I have since learned that the thoughts being cast down are primarily my own thoughts, and at the time of my dying to self I can then find myself in the place of anointed authority. I aspire to live in that place of surrender. "When your obedience is fulfilled". Behold the tap-out.
2 Corinthians 10:4-6
4 For the weapons of our warfare are not carnal but mighty in God for pulling down strongholds,
5 casting down arguments and every high thing that exalts itself against the knowledge of God, bringing every thought into captivity to the obedience of Christ,
6 and being ready to punish all disobedience when your obedience is fulfilled.
All scripture NKJV