The verse that immediately comes to mind, when the theme of "giving thanks" is brought up, can be found in a very tough and for the most part infrequently discussed psalm. Number 50. It's infrequency of discussion is likely because it contains sobering and harsh warnings to the covenant people of God. In our dispensation, that would mean both Jew and Gentile – those who've made a covenant with the Lord.
God, in His infinite plan to grow us and mature us and align us with His full personality, often locates roses among thorns – offering us supernatural fragrance of His revelation and His plan, in the midst of purposely (I believe) thorny stuff, stuff that is tough to hear.
This particular thorn-wrapped promise is one we don't ever want to miss, (particularly in times of trouble) as it contains not only a promise of deliverance and mercy, but also provides us with an understanding as to how our great God "reglorifies" the earth via His activity, via His planned response of deliverance towards His people. If you like, you can confirm this prophetic procedure by also reading Ps 67. It's below in this writing, for your convenience, btw.
First, here's a nice pic of a rose among thorns: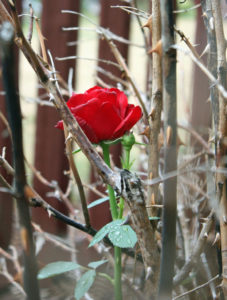 And now here's the revelation of Kingdom-plans and procedures:
Psalms 50:14-15
14 Offer to God thanksgiving,
And pay your vows to the Most High.
15 Call upon Me in the day of trouble;
I will deliver you, and you shall glorify Me."
We're encouraged/admonished/instructed to offer up thanksgiving to our God (at all times and in all things, adds Paul) and then we're told that even (and sometimes especially) in that place of solid relationship with the Creator of the Universe, in the middle of His, we will find ourselves in trouble – often with the eyes of a skeptical society waiting and watching to see how the saints might react to life's troubles.
It's in that place that God makes a promise to us: it's not that we won't HAVE troubles, it's that He will deliver us out of our troubles and the end result will be Him being glorified. Reglorification of the earth, if you will. Just like lightning repowers the charge of life on the planet, our deliverance restores some of the glory that is constantly dissipating through the rage of sin.
I believe Psalm 67 will be fully ignited when our Lord returns, but it's also quite alive right now:
Psalms 67:5-7
5 Let the peoples praise You, O God;
Let all the peoples praise You.
6 Then the earth shall yield her increase;
God, our own God, shall bless us.
7 God shall bless us,
And all the ends of the earth shall fear Him.
In this season of troubling (by God, as He promised would occur prior to the conclusion of this age – see Haggai 2), the response and proclamation of thankfulness to our God will accomplish great purpose.
So the saints (Ps 24) lift up their heads and the King of Glory comes in, and the world gets to see more evidence of His goodness and His plan of salvation.
Your thanksgiving, besides posturing you for a blessing, is evangelistic.
Thank You Lord.
scripture is NKJV