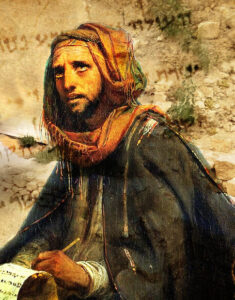 The prophet Jeremiah ministered to the Jewish people during some seriously tough times. I'd recommend anyone/everyone read at least the first 9 chapters of this prophetic book.
By Chapter 10 things were still heating up and would shortly be tougher still. The Jews were facing imminent invasion and captivity, not because God was unable to protect His people, but instead because His covenant people had:
(a.) refused to hear and
(b.) refused to heed the word of the Lord.
Jeremiah 10:2
2 Thus says the LORD:
"Do not learn the way of the Gentiles;
Do not be dismayed at the signs of heaven,
For the Gentiles are dismayed at them.
Unpacking Jer 10:2
First, our God admonishes/advises the people of God to not learn the way of the Gentiles, for all sorts of reasons revealed throughout scripture. We are not meant to fit in. We're in fact divinely purposed to be visible lights in a world we're assured will be growing darker, particularly in the times in which we are living. (re Isa 60:1-2)
Second, our God tells/advises the people of God to not be dismayed by the signs of heaven.
At the end of that one verse we're told that Dismay will be the reaction of the Gentiles – the ones unaware or ignorant of the word of the Lord and the plans that the Lord has revealed to "whosoever will" himself/herself purpose to hear, open, read and then tremble at the word of God – all of which will be fulfilled, no matter who might choose to speak, preach, teach, sing, prophesy or proclaim otherwise – by the end of chapter 14 the Lord, via Jeremiah, addresses all those futile scenarios.
Meanwhile, Someone else later mentions signs of heaven. Jesus.
Luke 21:25-28
(Signs in the heavens)
25 "And there will be signs in the sun, in the moon, and in the stars; and on the earth distress of nations, with perplexity, the sea and the waves roaring;
(Dismay, failing hearts, fear – a fulfillment of the Haggai 2:6-7 God-shaking work that's also spoken of in Hebrews 2:27 – a work timed to occur towards the conclusion of the age, just prior to our Savior's return – the intent being to get the attention of the Gentiles, as well as the full attention of the saints).
26 men's hearts failing them from fear and the expectation of those things which are coming on the earth, for the powers of the heavens will be shaken.
(Below we're told "Then" meaning: "At that time" – so we'd do well to ditch the biblically unsupported teachings re these words in Luke 21 having been fulfilled as a result of the 70AD temple destruction…
27 Then (at that time) they will see the Son of Man coming in a cloud with power and great glory.
(So what are the people of God, on earth in those days, to do instead of succumbing to dismay and panic, the result be failing hearts?)
28 Now when these things begin to happen, look up and lift up your heads, because your redemption draws near."
(NKJV)