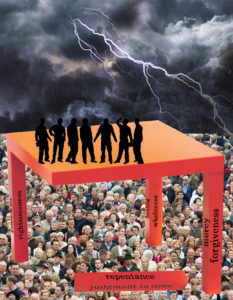 Numbers 11:29
29 Then Moses said to him, "Are you zealous for my sake? Oh, that all the LORD'S people were prophets and that the LORD would put His Spirit upon them!" – so let's include all of us, as anointed, Joel2, Acts2 believers, in this question, at the same time recognizing there are clearly those in the body of Christ with specific and particular prophetic callings, or with other valuable leadership-of-any-kind callings. THAT SAID:
Paul stated this of his own calling (and tells us in 1 Cor 11:1 to imitate him as he imitated Christ):
Acts 20:26-27
26 Therefore I testify to you this day that I am innocent of the blood of all men.
27 For I have not shunned to declare to you the whole counsel of God.
Might Paul the rabbi been reflecting on Ezekiel 3:18-20 and Ezekiel 33:7-12?
And re: the New Testament and our call to warn:
Colossians 1:28
28 Him we preach, warning every man and teaching every man in all wisdom, that we may present every man perfect in Christ Jesus.
AND WHY  PREACH TO EVERY MAN?
2 Peter 3:9
9 The Lord is not slack concerning His promise, as some count slackness, but is longsuffering toward us, not willing that any should perish but that all should come to repentance.
Meanwhile, prophets in both testaments, often discovered that people would rather hear smooth, kind and gentle words of encouragement, rather than what the Lord might want and need and call us to say (always in love). EX: Balaam. Hananiah.
You can search this site for an article titled "Untempered Mortar". Here is the biblical gist of the writing:
Ezekiel 13:1-12
1 And the word of the LORD came to me, saying,
2 "Son of man, prophesy against the prophets of Israel who prophesy, and say to those who prophesy out of their own heart, 'Hear the word of the LORD!' "
3 Thus says the Lord GOD: "Woe to the foolish prophets, who follow their own spirit and have seen nothing!
4 O Israel, your prophets are like foxes in the deserts.
5 You have not gone up into the gaps to build a wall for the house of Israel to stand in battle on the day of the LORD.
6 They have envisioned futility and false divination, saying, 'Thus says the LORD!' But the LORD has not sent them; yet they hope that the word may be confirmed.
7 Have you not seen a futile vision, and have you not spoken false divination? You say, 'The LORD says,' but I have not spoken."
8 Therefore thus says the Lord GOD: "Because you have spoken nonsense and envisioned lies, therefore I am indeed against you," says the Lord GOD.
9 "My hand will be against the prophets who envision futility and who divine lies; they shall not be in the assembly of My people, nor be written in the record of the house of Israel, nor shall they enter into the land of Israel. Then you shall know that I am the Lord GOD.
10 "Because, indeed, because they have seduced My people, saying, 'Peace!' when there is no peace—and one builds a wall, and they plaster it with untempered mortar—
11 say to those who plaster it with untempered mortar, that it will fall. There will be flooding rain, and you, O great hailstones, shall fall; and a stormy wind shall tear it down.
12 Surely, when the wall has fallen, will it not be said to you, 'Where is the mortar with which you plastered it?' "
And this is not confined to the older writings of the Jewish scriptures. Jesus our Lord, as well as Peter and Paul spoke forward of similar deceptions coming forth to deceive and distract, particularly towards the conclusion of this age:
Jesus used one example of false prophecy ("here's Jesus") to disclose the end-time appearance of false prophets prior to His appearance:
Mark 13:19-23
19 For in those days there will be tribulation, such as has not been since the beginning of the creation which God created until this time, nor ever shall be.
20 And unless the Lord had shortened those days, no flesh would be saved; but for the elect's sake, whom He chose, He shortened the days.
21 "Then if anyone says to you, 'Look, here is the Christ!' or, 'Look, He is there!' do not believe it.
22 For false christs and false prophets will rise and show signs and wonders to deceive, if possible, even the elect.
23 But take heed; see, I have told you all things beforehand.
ALL THIS TO SAY:
The message of hope to the world has to be the whole word of God. We're called to proclaim and declare in love the whole message. That is our firm foundation. And that is our accountability to the Lord who calls us to speak it all.
I am, not surprisingly, hearing and seeing many optimistic words of encouragement both to the saved and unsaved, that contain three legs of the pictured table. It doesn't work. Nor is it particularly timely in days like these. Nor will it stand up.
BTW: If you've been hurt or damaged by anger-delivered hell-fire and damnation messages you've heard earlier in your lives, I apologize on behalf of the Kingdom of God. Sorry. Really. Now can we move on? The time is particularly short right now. In fact, the times in which we are living are the times the Lord has clearly spoken about. First-time absolutely global troubling. Impacting the entire. Raging nations everywhere.
Anything short of the whole gospel is actually no gospel. Needless to say – but I'll say it – each and every time we might speak to any person the entire sotry-of-God cannot and likely ought not be proclaimed. But the over-arching message of truth coming forth from the saints has to be the whole message. And the teachers, prophets and preachers called to proclaim the gospel publicly are particularly accountable to this truth. The message of the whole scroll.
Isaiah is considered by many to be THE most fully prophetic book of the Old Testament with the most through revelation of the times prior to the return of our Messiah (not just the first appearance, but the second).
Here's excerpts from the final chapter.
Isaiah 66
1 Thus says the LORD: "Heaven is My throne,
And earth is My footstool.
Where is the house that you will build Me?
And where is the place of My rest?
2 For all those things My hand has made,
And all those things exist,"
Says the LORD.
"But on this one will I look:
On him who is poor and of a contrite spirit,
And who trembles at My word.
(BIRTH OF ISRAEL HAD TO OCCUR BEFORE THE END OF THE CHAPTER COULD ACTIVATE. Check that box)
7 "Before she was in labor, she gave birth;
Before her pain came,
She delivered a male child.
8 Who has heard such a thing?
Who has seen such things?
Shall the earth be made to give birth in one day?
Or shall a nation be born at once?
For as soon as Zion was in labor,
She gave birth to her children.
9 Shall I bring to the time of birth, and not cause delivery?" says the LORD.
"Shall I who cause delivery shut up the womb?" says your God.
10 "Rejoice with Jerusalem,
And be glad with her, all you who love her;
Rejoice for joy with her, all you who mourn for her;
11 That you may feed and be satisfied
With the consolation of her bosom,
That you may drink deeply and be delighted
With the abundance of her glory."
12 For thus says the LORD:
"Behold, I will extend peace to her like a river,
And the glory of the Gentiles like a flowing stream.
Then you shall feed;
On her sides shall you be carried,
And be dandled on her knees.
13 As one whom his mother comforts,
So I will comfort you;
And you shall be comforted in Jerusalem."
The Reign and Indignation of God
14 When you see this, your heart shall rejoice,
And your bones shall flourish like grass;
The hand of the LORD shall be known to His servants,
And His indignation to His enemies.
15 For behold, the LORD will come with fire
And with His chariots, like a whirlwind,
To render His anger with fury,
And His rebuke with flames of fire.
16 For by fire and by His sword
The LORD will judge all flesh;
And the slain of the LORD shall be many.

18 "For I know their works and their thoughts. It shall be that I will gather all nations and tongues; and they shall come and see My glory.
22 "For as the new heavens and the new earth
Which I will make shall remain before Me," says the LORD,
"So shall your descendants and your name remain.
23 And it shall come to pass
That from one New Moon to another,
And from one Sabbath to another,
All flesh shall come to worship before Me," says the LORD.
24 "And they shall go forth and look
Upon the corpses of the men
Who have transgressed against Me.
For their worm does not die,
And their fire is not quenched.
They shall be an abhorrence to all flesh."
Jesus, Peter, Paul, loving the lost, all began their ministries with the same word:
Repent. That is the doorway and hope for salvation, to wholeness for any and all.
The saints of the Lord are called into the place of understanding, as much as possible, the whole plan of God for these days so that we might minister to the lost world in the fullness of the message, and that we ourselves might allow the Lord to work the fullness of His refinement work in all of us – equipped and prepared for the promised great exploits.
But a gospel message of "hope and restoration and better days ahead" without a sincere and loving call to repentance is not a gospel message. Like the table, it will not withstand the upcoming storms, nor will it suffice to keep men's hearts from failing for fear. Rebuild, Restore, Renew, are all good thoughts and visions. But change and true salvation must include Repent.
(all scriptures NKJV)