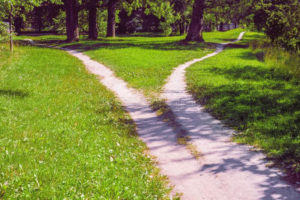 The elder John, having been around the "Christian block" many many times in his many years of faithful living, was writing to a woman he cited as "Kyria" – noble lady. What a great title!
2 John 1:4-6
4 I rejoiced greatly that I have found some of your children walking in truth, as we received commandment from the Father.
5 And now I plead with you, lady, not as though I wrote a new commandment to you, but that which we have had from the beginning: that we love one another.
6 This is love, that we walk according to His commandments. This is the commandment, that as you have heard from the beginning, you should walk in it.
The commandments are timeless in their holiness. And were there to be a "new" commandment (as God continues to speak throughout the ages) it would align with and confirm, instead of violate or dispute the word of God that is already and eternally in place. That word is eternal and non-negotiable in its completeness, holiness, accuracy, timeliness, accountability, volatility, you name it. And God is jealous over that word. It does not waiver, nor does it morph or adjust to the eroding-by-the-day moral climate of our times. That is both a promise and a warning.
The falling away of many, noted in scripture and particularly cited as an end-times propensity, is a reality that is not intended to be mocked or overlooked. Nor will our great God tolerate such activity, particularly in His church.
Daniel 11:35
35 And some of those of understanding shall fall, to refine them, purify them, and make them white, until the time of the end; because it is still for the appointed time.
The word goes on to assure us God will violently address unrepented sin in His church, particularly unrepented sin in people of position and influence:
Revelation 2:20-23
20 Nevertheless I have a few things against you, because you allow that woman Jezebel, who calls herself a prophetess, to teach and seduce My servants to commit sexual immorality and eat things sacrificed to idols.
21 And I gave her time to repent of her sexual immorality, and she did not repent.
22 Indeed I will cast her into a sickbed, and those who commit adultery with her into great tribulation, unless they repent of their deeds.
23 I will kill her children with death, and all the churches shall know that I am He who searches the minds and hearts. And I will give to each one of you according to your works.
Whoa.
I believe we are seeing our Lord, IN HIS MERCY, even stick His foot out, in hope of and for purposes of eventual restoration of some who would repent.
Is God taking the sins of the saints lightly, particularly in this age of challenge, prior to His return? He is not. And He is warning us to beware of the conditions that will arise and prevail and challenge holiness.
2 Timothy 3:1-9
1 But know this, that in the last days perilous times will come:
2 For men will be lovers of themselves, lovers of money, boasters, proud, blasphemers, disobedient to parents, unthankful, unholy,
3 unloving, unforgiving, slanderers, without self-control, brutal, despisers of good,
4 traitors, headstrong, haughty, lovers of pleasure rather than lovers of God,
5 having a form of godliness but denying its power.
And from such people turn away!
6 For of this sort are those who creep into households and make captives of gullible women loaded down with sins, led away by various lusts,
7 always learning and never able to come to the knowledge of the truth.
8 Now as Jannes and Jambres resisted Moses, so do these also resist the truth: men of corrupt minds, disapproved concerning the faith;
9 but they will progress no further, for their folly will be manifest to all, as theirs also was.
THE REMEDY:
Having done all, to stand.
Ephesians 6:13-14
13 Therefore take up the whole armor of God, that you may be able to withstand in the evil day, and having done all, to stand.
14 Stand therefore, having girded your waist with truth, having put on the breastplate of righteousness,
SOME TRUTHS:
If you continue in the faith.
Colossians 1:23
23 if indeed you continue in the faith, grounded and steadfast, and are not moved away from the hope of the gospel which you heard, which was preached to every creature under heaven, of which I, Paul, became a minister.
If any draw back my soul has no pleasure in them.
Hebrews 10:37-38
37 "For yet a little while,
And He who is coming will come and will not tarry.
38 Now the just shall live by faith;
But if anyone draws back,
My soul has no pleasure in him."
Do not be deceived
Galatians 6:7-9
7 Do not be deceived, God is not mocked; for whatever a man sows, that he will also reap.
8 For he who sows to his flesh will of the flesh reap corruption, but he who sows to the Spirit will of the Spirit reap everlasting life.
9 And let us not grow weary while doing good, for in due season we shall reap if we do not lose heart.
The inheritance set aside for the holy:
1 Corinthians 6:9-10
9 Do you not know that the unrighteous will not inherit the kingdom of God? Do not be deceived. Neither fornicators, nor idolaters, nor adulterers, nor homosexuals, nor sodomites,
10 nor thieves, nor covetous, nor drunkards, nor revilers, nor extortioners will inherit the kingdom of God.
There never has been, nor ever will be, a parallel path to holiness .
What might at first be cited as "progressive" adjustments to the word of God, no matter how "kind" or "inclusive" they might at first and for a season appear to be, are contrary to God's holy plan, which is the best and exclusive plan.
Sin leads to death. Always has and always will.
Humanism contradicts God.
We are invited to choose the ways of our Lord.
His ways are higher and better and lead to life.
We are invited to partner with God in our successful walk, and in fact are told to make straight paths for our feet.
Wandering paths can at first appear to be parallel paths. That is a deception. They are not.
Over the brief 40+ years of my personal faith-walk, I have seen ministries and ministers rise up and speak convincing words and present convincing theories, doctrines, philosophies and arguments that enticed, intrigued, and got hold of many saints. I've sometimes seen anointings and positions of authority and church prominence intoxicate some. I've seen saints stumble, cause others to stumble, and fall. Anything other than biblical accuracy and daily humble submission to the full word of God is guaranteed to fail.
Holiness leads to life.
Don't let anyone tell you otherwise.
At the risk (and it will happen) of being called religious or narrow-minded, exclusive or archaic, we are invited by God to hold, in love, the line on holiness, and to represent a holy God by our own holy lifestyle. Confirming or affirming unholiness is a blasphemy. It is not love. It is in fact paving a path for the destruction of others, as well as self.
We are absolutely called to be walking in love. Obedience to the word of God, is intended by God to be a joy, not a burden. And our love for our God is represented by our keeping His commandments.
1 John 5:2-3
2 By this we know that we love the children of God, when we love God and keep His commandments.
3 For this is the love of God, that we keep His commandments. And His commandments are not burdensome.
Eventually all will pan out. The Good Book tells us so.
The "parallel" paths will prove to only be roads to destruction.
The path of life will be clear, and bright, illuminated by His word. It will lead us to Zion.
Again – as per a recent post, we are called to embrace humility, comprehending and therefore coveting the safety and success of walking humbly before God and man.
Zephaniah 3:12
12 I will leave in your midst
A meek and humble people,
And they shall trust in the name of the Lord.
All scripture NKJV